The Directorate of Public Works opened Turkey Run Bridge after more than 2 years of construction. COL Chad Foster, Fort Hood Garrison Commander said this will help keep soldiers safe during training.
Click above for HD video
The $16.5 million Turkey Run Bridge and Road project is now complete. The project removed the dangerous low water crossing and constructed an elevated bridge structure which will support both tactical and civilian traffic, said Brian Dosa, Director of Fort Hood Directorate of Public Works.
Click above for HD video
This Military Load Class-150 bridge will provide a safe means of travel on this critical deployment route, up to a 100-year flood event. Turkey Run Road was also reconstructed between Clear Creek Road and the new bridge.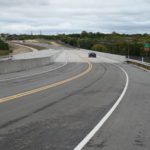 Click above for HD video
The Turkey Run Bridge is part of Fort Hood's ongoing efforts to eventually eliminate all low-water crossing areas on paved roads throughout the installation.